Most of America's Businesses Run by White Men
New government data show business owners are still a fairly homogeneous group.
Most of America's Businesses Run by White Men
America's business owners are predominately white men, according to a new study. (Sam Edwards/Getty Images)
The majority of U.S. businesses are small, relatively new and owned by white Americans, according to new data published Thursday by the Census Bureau.
The bureau estimates there were 5.4 million companies and businesses with paid employees at the end of 2014. About 9 percent of these outfits had been started within the previous two years, and nearly 53 percent had been started within the last 10. Surprisingly, the bureau estimates that only 3.1 percent of U.S. businesses in operation in 2014 had been around for at least 16 years.
But the survey, put out in conjunction with the Ewing Marion Kauffman Foundation and the Minority Business Development Agency, painted an ownership picture that is still skewed largely to white males. Only 17.5 percent of businesses in operation in 2014 were minority owned, even though the bureau estimates that African-Americans, Latinos, Asians and other ethnicities account for more than 38 percent of the country's overall population.
Additionally, minority-owned businesses generated only about $1.1 trillion in receipts in 2014 – slightly more than 3 percent of the $33 trillion collected across the country. About a quarter of all women-owned businesses were also classified as minority owned, with more than half of this subgroup operated by Asian-Americans.
Overall, women-owned businesses accounted for 19.4 percent of all U.S. operations and brought in about 4 percent of the country's overall sales receipts, even though women account for more than half – 50.8 percent – of America's total population. Female owners have historically been underrepresented among the nation's biggest companies, with only 22 of S&P 500 outfits, or 4.4 percent, boasting a female leader, according to female-focused nonprofit Catalyst. The group estimates only about 25 percent of the S&P 500's executive or senior-level officials and managers are female.

Women's average educational attainment also slightly outpaces men, with the bureau estimating in 2015 that 60 percent of women had at least attained some form of college education, compared to 57.6 percent of men. But even educational statistics are largely skewed toward white Americans, with 93.3 percent of non-Hispanic white Americans having a high school degree or more, compared to 89 percent of Asian-Americans, 87 percent of African-Americans and 66.7 percent of Hispanic-Americans of any race.
Interestingly, the Census Bureau also found that only 0.3 percent of U.S. companies have 500 or more employees on their payrolls, compared to 78.5 percent that have fewer than 10. Annual payrolls were found to total $5.6 trillion, which means average annual employee pay clocked in around $48,997 per worker.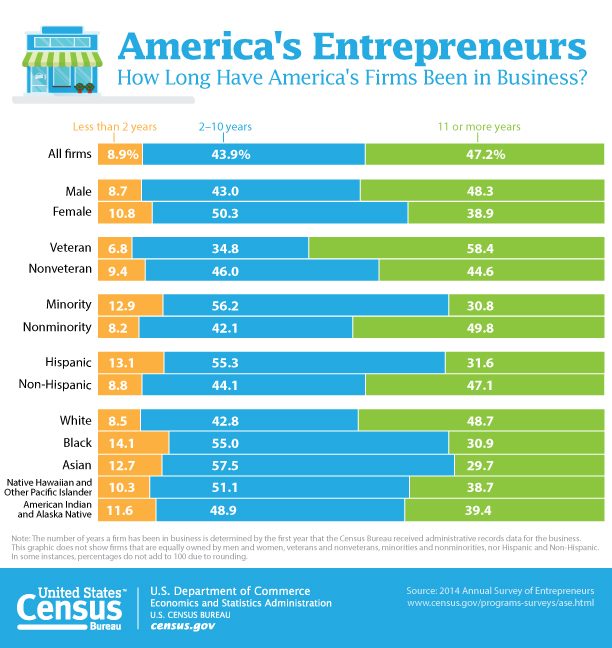 [Source: U.S. Census Bureau]